AWARENESS MATTERS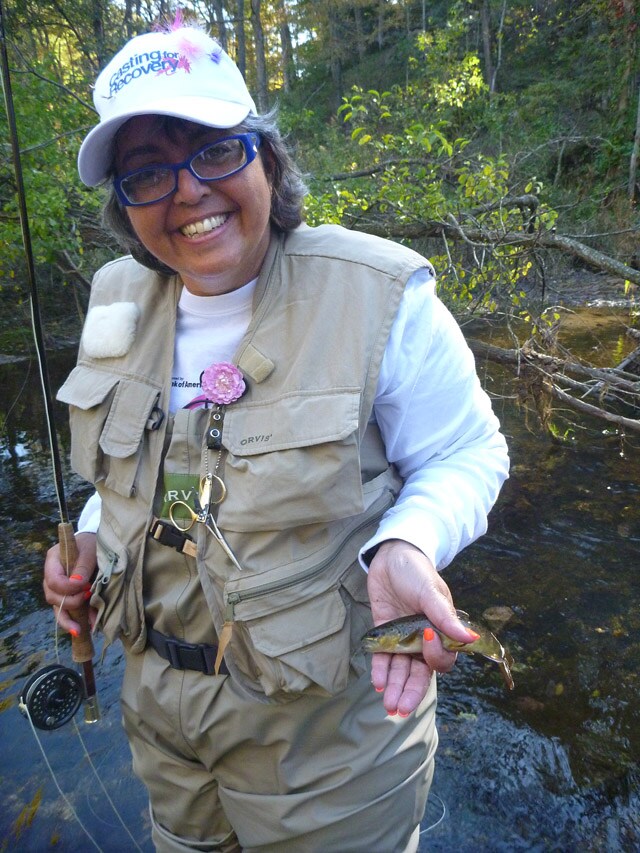 My name is Kathleen Brace, my friends call me Kat. When I was 14 I was diagnosed with stage one breast cancer. At the time, I thought it was cool. I didn't realize that it would be life changing. I just thought that all these doctors coming from all over was neat and it made me a rockstar.
I ended up having a lumpectomy. No chemo, no radiation. I just had to have mammograms, biopsies and ultrasounds every 6 months. In my 20's and 30's, I flirted with cancer again. Having mutated cells removed, to having a mass removed. In September 2014, I found a lump while I was waiting for my mom to be called to heaven. She was dying of ovarian cancer.
Five months later, three MRIs, two ultrasounds, a cell removal, and a one car accident later, I was told by phone that I had cancer. I was 45 years old.
I was told that the best course of action was to have a double mastectomy. I sat there in shock. Dr. Goldman said, "You had to know it was coming." My response being how I always thought it would be in my 70's, not my 40's. At the time he didn't think I would need chemo or radiation. Unfortunately, he was wrong. I ended up needing both.
A
s I sat in one of the many lobbies waiting for a specialist, that's when I heard about Casting for Recovery.
T
here was a pamphlet about fly casting and breast cancer. I thought, "What the heck, something different," and if I could get more use out of my arm.. Bonus. I thought it would be fun so I applied online. About three months later, I got an email saying I had been accepted!
A
t the time, I was in recovery from my last surgery. This news couldn't have come at a better time.
I went that following October and it was amazing. I had never been to counseling, but here I was with 14 other women dealing with side effects just like me.
W
e shared stories, we got help, we learned how to fly fish and had an incredible time. This organization made me grow as an individual. I was asked six months ago to volunteer for this worthy cause. With Deery of Ames giving me an outstanding, yes - I can now support a cause that is near and dear to my heart.
-Kat Brace, Service Manager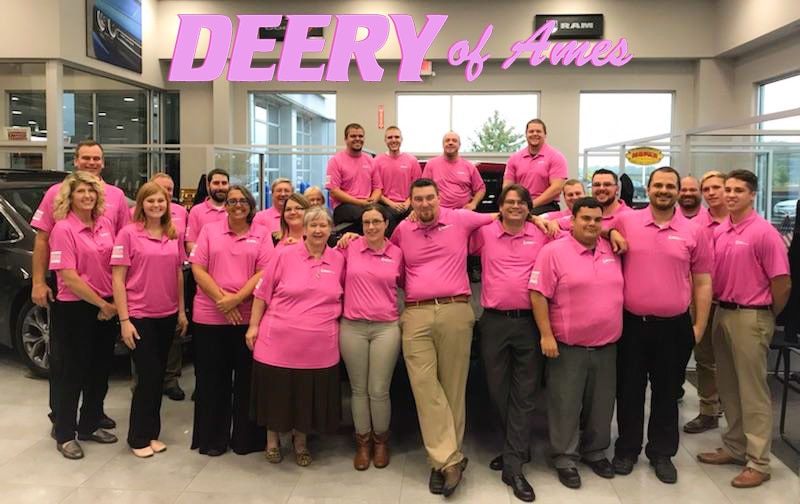 In the month of October, Deery of Ames Chrysler Dodge Jeep Ram will be donating $20 for
EVERY VEHICLE PURCHASED in the month of October to the
 William R. Bliss Cancer Center!
 We stand 
firmly next to our roots and culture as a growing family here in Ames, which is why we do our 
best to continuously help
 support the people who help to support us. We know how i
mportant 
every mother, daughter, grandmother, and aunt is in every family, so we hope to provide 
some 
assistance in our efforts to give back to the amazing woman in our lives.  
This is the start of a wonderful tradition that is near to our hears and we look forward to carrying on for years to come! 
2016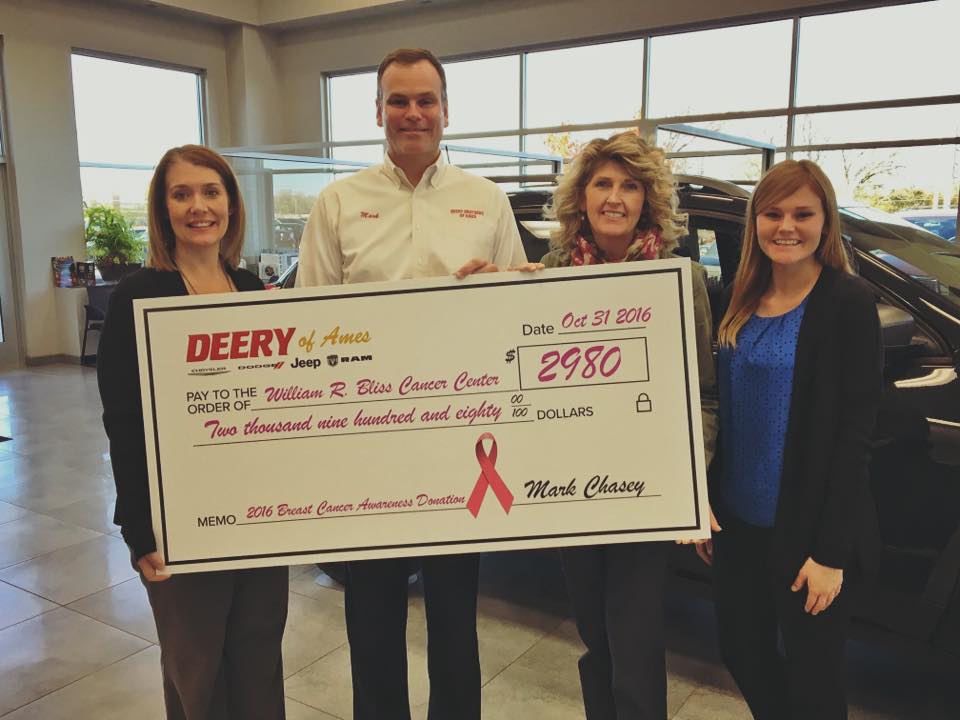 2017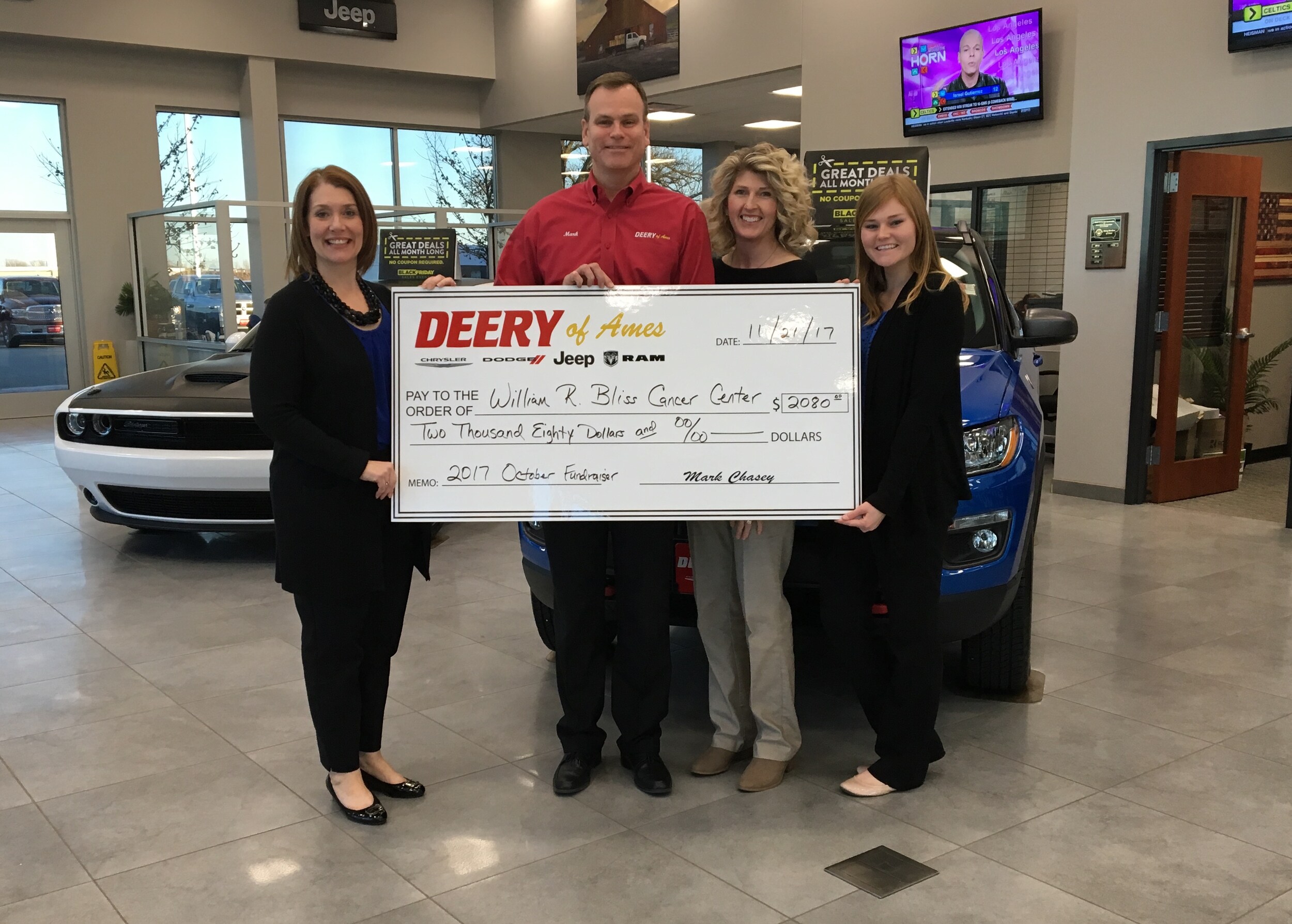 We look forward to working with this wonderful organization for the years to come!